"They asked us all to tea that evening, & we went, with the dogs, who stayed outside all the time & were very good. There was a gramophone there which was played for us – it was extraordinary how anxious Mrs Roberts was to give us stage Irish comic songs, but we managed to escape most of them."
NLI Call Number: MS, 3582/35
NLI Catalogue Link can be found here
Date Range of Diary: 29th October 1918 – 11th September 1919
WEEK 90: 28th July – 3rd August 1919
Monday 28th. – A lovely hot day. I took the dog for a walk out the road without the leads, & he was perfectly good. An old back dog came with us & got awfully tired. After tea Katie & I went for a ride out the road & round by Brook Lodge – once we got off the main road everything was fresh & green & exquisite, & it was a perfect evening. I very seldom saw the neighbourhood look more heavenly.
(238)
Tuesday 30th. – I was reading the 2nd vol, of Sinister Street, which seemed more interesting than the first, though its still somehow luxuriously unwholesome & unpleasant Stella for instance.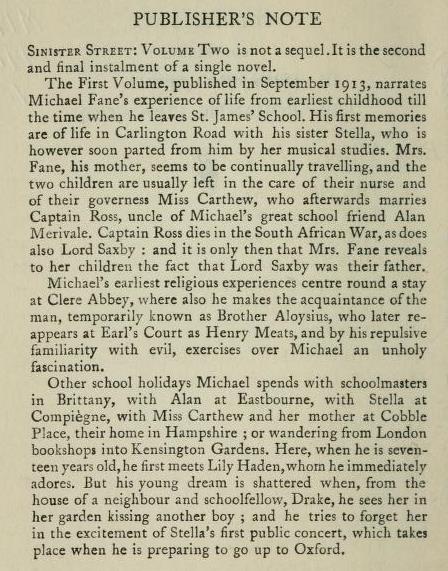 Michael is the most read & decent person in it – & Green's history of the English people, which is more interesting than any history I have read except perhaps Mrs Green's Nationality.
Wednesday31st. – I went to Summerville for a few days. It was still very hot, & the drive from the station was lovely. Cousin Anna was there as well as Milly, but Milly was going away next day with Fanny & others to Holyhead. They had unlimited strawberries for tea – their strawberries must be a very late kind. Milly & I & the dogs went up to Avonbeg after tea, to see Marjorie who had come home on a visit. She was very busy in the kitchen arranging a basket of flowers that Molly was sending to the show in Inis-Corthaid [Enniscorthy] next day. Marjorie has got very fat &
(239)
was hideously dressed in a navy blue loose jersey with a low neck & a loose white band round the hips. Her hands were blazing with diamonds etc, & she had a lovely little black & tan puppy called Benjamin, who she said would be a Yorkshire terrier. The rest were all there, but she talks most & we didn't stay long. Fionn seems well, but is visibly aging. Cousin William was perhaps more cheerful than usual.
Thursday 1st August 31 July. – Milly & I picked peas & beans in the morning in a field by the back avenue – a corner of it was peas & beans & the rest oats being cut. Milly wanted a great store of peas & beans to take with her to Holyhead. After dinner
(240)
she & Cousin Williams & I drove to Ferns – a lovely drive with the mountains on one side & the all the ripening cornfields, & met Mrs & Mr Haughton & Fanny at the station. Mrs H. looks very young for her age. I picked raspberries in the afternoon with Cousin Anna, & it came on raining. They let the raspberries rot on the bushes because they are small.
Friday 1st Aug. – Margorie & the others – not Eleanor – came down in the morning to ask me to go & bathe with them, so I went, & Margorie drove me & Lisbeth & Benjamin in the Avonbeg donkey trap, which pleased me much better than walking
(241)
through the fields in the heat. Margorie is so lively & goodnatured that she is very pleasant company; she talked about seapoint & her manner of life there & how Calvert was coming down for the weekend. The others were at the river before we got there, & bathed – I tried to paddle but it was hard to find any place to get in. I was of use in throwing sticks for Toby. They asked us all to tea that evening, & we went, with the dogs, who stayed outside all the time & were very good. There was a gramophone there which was played for us – it was extraordinary how anxious Mrs Roberts was to give us stage Irish comic songs, but we managed to escape most of them. There was Oft in the Stilly Night, & other very agreeable things. Eleanor worked it. She & Lisbeth have their hair cut short & look like big children – Lisbeth is very childishly dressed. Molly
(242)
got a prize at the show for her basket of flowers, but that was the only satisfactory thing about the show; it seemed to be very badly arranged. Alex Roberts looks as if he wd be a very nice father. Their garden is improved & extended since last year, & was looking very well – splendid pansies among other things. Cousin William apparently considers Marjorie a sort of rattle, & says Calvert buys her every jewel she admires in a shop window, & if he keeps on he'll ruin himself. He had a great regard & respect for Eleanor.  
Saturday 2 Aug. – In the afternoon I got Milly's bicycle & cycled to Sweetfarm. It was a lovely ride, there is a great charm about the Co. Wexford. They were just starting tea at Sweetfarm – Martha Haughton & Mrs Poole & 2 paying guests, one old & deaf & the other very deaf & slightly queer.  They showed me French photos of Hubert's, one very
(243)
good for himself. I went over to Hollymount with M.H. after tea & found them having tea out in the garden plus a young clergyman. Hilda & Winifred & Christine were all there besides their mother, C. very silent as usual. They had been having a Band of Hope meeting there that afternoon. We I was praising the countryman style of soft black felt hat, which does not prevail in that county, & the clergyman said people who wore them were mostly Sinn Féiners.  Mrs Poole was going to Rockspring for the week end, & cycled with me as far as Deth's hill, after which I cycled with her for another mile or two on the Rockspring road. There is a great kindness & pleasantness about all the Haughton family.
Sunday 3 Aug. – We went to meeting in the motor, & heard an entertaining sermon from Sarah Poole about open air preaching on the
(244)
esplanade at bray, & how indifferent or mocking the people were. They were mostly Catholics & Jews. She herself was distributing tracts, which few wd take. The congregation was pretty big, but the number of little girls was appalling. I saw Calvert Roberts & did not admire him; he looked unhealthy in the way that does not include paleness. We had a good dinner & I think I took Fionn for a walk. A crowd from Avonbeg came down after tea & ate gooseberries in the garden, & Marjorie & I agreed in abusing Sarah Poole. I said how wd she like to have Catholics & Jews giving her tracts, & M. said that was just what Calvert had remarked. It was a perfect evening.
Featured Image: General View, Enniscorthy, Co. Wexford. Eason Photographic Collection, 1900-11. EAS_3676